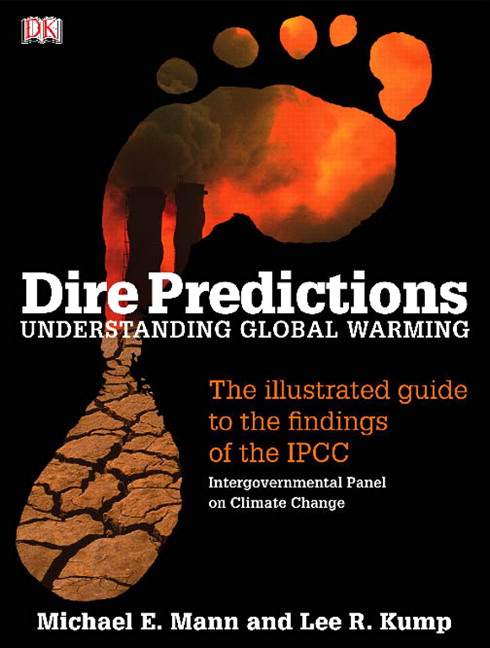 Media Reviews
A'ndrea Elyse Messer, Research Penn State: "A key element is accurate information debunking the most commonly held myths about climate change, including the ideas that carbon dioxide is causing the holes in the ozone, that the increase in carbon dioxide is the result of natural cycles, and that our atmosphere is not warming at all. The authors consider each myth or misunderstanding and explain any kernel of truth within it before providing its refutation."
Dan Vergano, USA Today: "[Michael] Mann and his colleague Lee Kump have written a terrific illustrated guide to global warming...with graphics that make even the most complex climate questions easily understandable. Our graphics department will be plundering the book for the next few years."
Bud Ward, Yale Climate Forum: "Practically every page spread...is studded with stunning and informative graphics and illustrations. Hear that? Repeat: Stunning AND informative."
Gerry Karey, Platt's The Barrel: " 'Dire Predictions - Understanding Global Warming,' ... is likely to infuriate climate skeptics because it is so user friendly that it could become a popular default source for information on global warming."
Janet Raloff, ScienceNews: "[T]he authors have tackled a tough job and given lay readers a nice primer to begin wading into the complexities of Earth's climate.
Margot Roosevelt, Greenspace, Los Angeles Times: "[A] handy guide for every harried individual daunted by the complexities of greenhouse effects, carbon-cycle feedbacks, ocean conveyor belts and climate modeling."
Jay Gulledge, Nature Reports: "The main tool of communication and by far the best feature of the book is its high-quality data graphics showing the key observations and projections from which the IPCC developed its conclusions." See also Olive Heffernan's synopsis on Nature's Climate Feedback blog.
Nola Theiss, Sanibel-Captiva Islander: "[I]t almost reads like a travel guide that helps the reader traverse the difficult terrain of climate change facts and figures through the use of photos, charts, and maps. It doesn't downplay the science behind the articles, but it really is all about presentation and the implications of that science."
Marcus Schneck, The Harrisburg Patriot-News: "[I]t's heavily focused on photos and graphics, which made the facts it included even more terrifying. That style forces the writers to encapsulate everything, meaning the presentation on coming extinctions really pops."
Andrew Revkin, Dot Earth, The New York Times: (see "illustrated books" link in 2nd paragraph of piece)
William F. Hewitt, Nature Reports: "Climate Change: Picturing the Science is the latest of various efforts to convey the seriousness of the climate situation through imagery as well as words. In this regard, it follows from Earth Under Fire ... and Dire Predictions."
Robert Brinkmann, University of South Florida in Southeastern Geographer (Subscription required)
Richard Hilderman, guest columnist, The Greenville News
C. Gregory Knight, Penn State, in Annals of the Association of American Geographers: "[Mann and Kump] take the reader through the basics of global warming and climate change, climate projections, impacts, vulnerability and adaptation, and potential solutions" Read PDF>>
Nola Theiss, Kliatt: "I found [Dire Predictions] to be one of the clearest and easiest to digest explanations of climate change I have ever read."